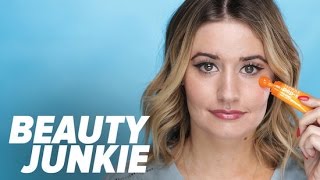 If you are a constant victim of the 'Are you sure you're fine, you look tired' comment, then this is for you. It might be caused by a number of things; health issues, dry and flaky skin, lack of sleep, etc. You need help to avoid looking dried up and unhappy because that's what a tired-looking face depicts.
Working in Lagos can be such an exhausting activity, thanks to the traffic and a host of other things. Don't let the exhaustion be so glaring on your face, and make you look dull. Learn these tips and put them to work, you'd thank me later.
Make use of Eyeliner: This trick does awesome wonders and would reduce and shift people's attention from the overall tired look of your face whilst making your eyes pop.
Pulling your hair into a high, tight wrap. Ordinarily, when you make a style that gives your face ample breathing space, you face features take the lead. Ponytails aka Suku, braids, all back, etc, all these hairstyles give your face a little lift, so you look refreshed.
Try Makeup:
We all know the wonders makeup does, applying bronzer to your cheekbone would definitely give you the illusion of a glowy appearance. It prevents you from looking like a zombie.
Drink water! plus healthy meals are the way to go.
Spoon!: There are many beauty hacks that are quite effective, using a spoon to relieve tired eyes is one of them. put them in a fridge so there are cold, doing this makes them more effective. It reduces puffiness and redness.
Applying a light lipstick shade also diverts attention to somewhere other than your tired eyes.
Mascara up, Add More Mascara you could double or triple the coats as much as you like.
Bling it out. So you feel and look tired, the best trick is to distract people from your face and focus on all the bling you have going on. The sparkle makes you look lively.
SLEEP! The simplest and the easiest plus most effective way is to sleep for the required amount of time prescribed which is 6-8 hours. 
Do you want to look less tired the morning after? Then you should try out these tips by pop sugar beauty reporter Kirbie Johnson. Tap the video to watch.