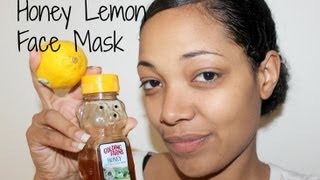 To achieve naturally glowing skin natural home remedy is the best answer for long-lasting result without any acute side effects. Honey and lemon both have various benefits both for the skin and our general well-being.
Honey's mild exfoliating ability helps give you fresh, smooth skin by safely removing dead skin cells that can clog pores and make your skin look dull. Honey has a natural antimicrobial quality that helps heal acne scars, prevent blemishes, and can even help with wrinkles.
Lemon is known as antibacterial, they do help treat acne whilst acting as a skin brightener. Lemons are rich in vitamin C and citric acid, so they can help brighten and lighten your skin when used over time.
This homemade face mask will leave your skin feeling fresh, clean, and moisturized. So best believe this magic combo would leave your skin glowing whilst keeping it fresh.
Benefits of the Honey lemon face mask:
Clears acne.
Brightens Skin.
Dries out pimples.
Minimize your pores.
Relieves dryness.
Reduces redness.
Direction on how to apply:
Firstly, mix a few drops of fresh lemon juice with two teaspoons of honey until you have a syrup-like consistency.
Wash your face thoroughly before applying the mixture.
Leave the mask on your face for thirty minutes, then rinse your face with clean cold water.
Make sure to moisturize.
This mask can be applied twice daily to achieve the best results or 5 times a week.