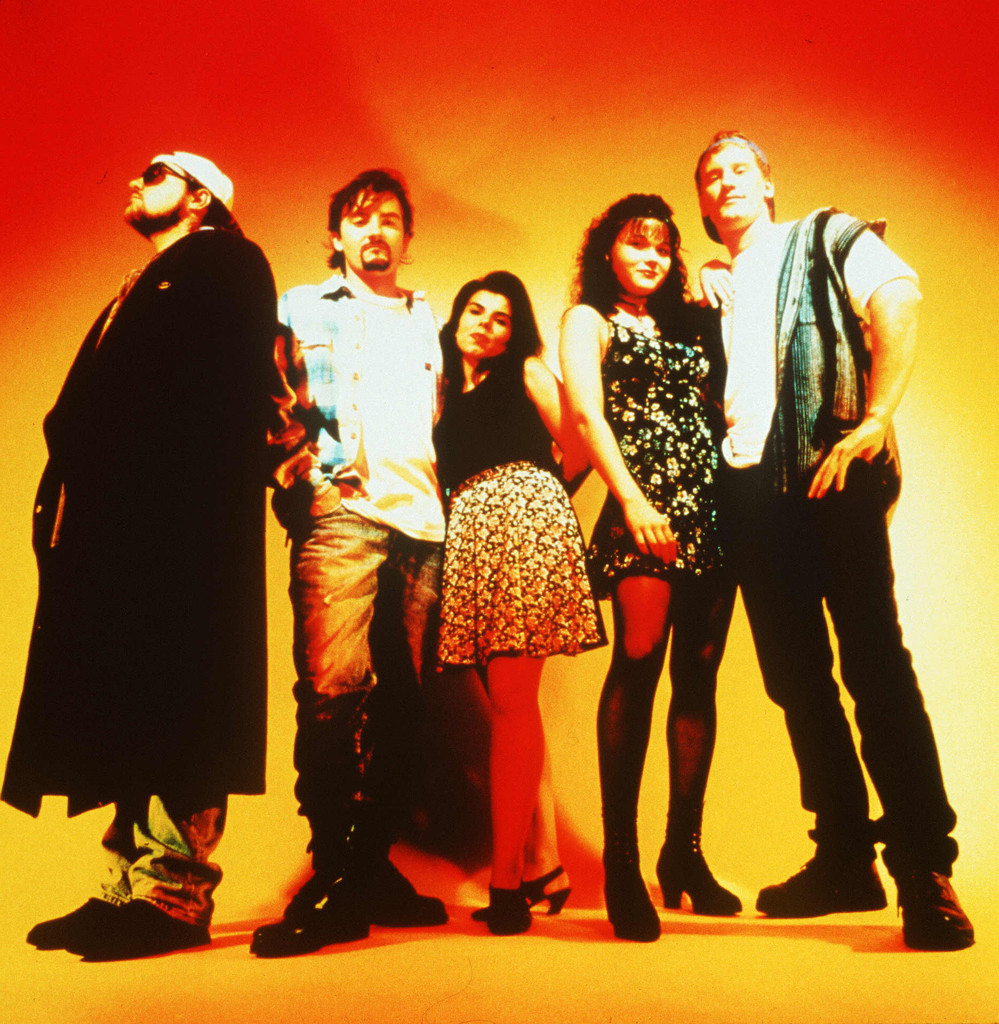 View Askew/Kobal/Shutterstock
Twenty-five years ago, Clerks opened in two theaters.
Starring no one you'd ever heard of, shot in black and white, profanely hilarious and instantly rewatchable—because you weren't quite sure if what you had seen was good or just "independent"—the minuscule-budget comedy ended up being the first brick in the Kevin Smith empire.
The grainy slice-of-slacker-life film didn't feature some of the bigger stars who would end up being regulars in the View Askewniverse, such as Ben Affleck and Jason Lee. But it introduced the world to Jay and Silent Bob, played by Jason Mewes and Smith himself as the taciturn half of the weed-dealing duo who only breaks his silence to utter something profound. They became a franchise unto themselves, one that resumed Friday with Jay and Silent Bob Reboot, the duo's first major screen appearance since 2001's Jay and Silent Bob Strike Back.
But it all started with Clerks.
The Quick Stop Market and adjacent RST Video were ripped right from Smith's reality.
"I was interested in working at the video store 'cause that seemed like a dream job, sitting around watching f–king movies all day long, getting free rentals," he remembered in The Making of Clerks." Then he got his buddy a job there, too, and "we pretty much had the run of the place," Smith said.
"It was essentially a clubhouse where a bunch of uninvited people would come in and bother you to buy things," another pal noted.
"Our time there," Smith concluded, "was not really spent working as much as it was spent trying not to work." He was "the prototypical Dante," he added, but he wanted to be the Randall.
Eventually, however, he realized he wanted to make movies.
"I think that helped, being absolutely f–king naïve and guileless and such a rank amateur, because you didn't really think about the possibility that it might not pan out for you," Smith recalled on Gavin Michael Booth's "How Many Days?" in 2009. "It just seemed to always make sense."
Having seen Richard Linklater's indie classic Slackers when he turned 21 in 1990, Smith set out to follow that film's trajectory—make his own funny movie, pay $500 to get it screened by the Independent Feature Film Market, then people would see it and someone important would want to give him money to make more movies. Snoochy-boochy-noochy!
That isn't exactly how it panned out, but what happened is—especially in hindsight—far more interesting, funny and, ultimately, a little tragic. A lot like the movie itself. Here are 25 things to know about the story of Clerks:
1. Director Kevin Smith maxed out more than a dozen credit cards and sold his comic book collection to scrape together the $27,575 that Clerks cost to make. When it screened at the IFFM to an almost empty theater, after the initial shock that his master plan wasn't working out, Smith equated the money to spent to a year of film school tuition, and hoped he'd be able to raise enough to make another movie someday.
But indie-film whisperer Bob Hawk was at the screening, and he told Smith he should try to get Clerks into the Sundance Film Festival.
2. The film got into Sundance, where Smith won the Filmmaker's Trophy, attracting the attention of Miramax honcho Harvey Weinstein, who bought the film and sent it to the Cannes Film Festival, where it won the Prix de la Jeunesse and the International Critics' Week Prize. For the next 23 years, Smith would credit Weinstein profusely for his support. When allegations of rampant sexual misconduct against Weinstein were reported in 2017, Smith tweeted, "He financed the first 14 years of my career – and now I know while I was profiting, others were in terrible pain. It makes me feel ashamed."
"I just wanted to make some f–kinging movies and that's it," he further expounded on his Hollywood Babble-On podcast. "That's why I came, that's why I made Clerks. And no f–king movie is worth all this. Like, my entire career, f–k it, take it. It's wrapped up in something really f–king horrible." He pledged to donate all further residuals from his Miramax and Weinstein Company-produced movies to the nonprofit Women in Film.
3. Smith has said that it was a critic who interpreted the black and white, cinema verite look as a purposeful decision to make the film look almost as if it was shot on the store's security camera.
"People think it was a creative choice. It was because there was no money," Jason Mewes explained recently on The Late Show With Stephen Colbert.
Added Smith, with a smile, "And then every interview I did after that, I'd be like, 'We shot it in black and white 'cause we wanted it to seem like the store security camera.'"
4. Clerks was originally slapped with an NC-17 rating for its graphic sex talk and themes so mature they were downright juvenile. Miramax hired Alan Dershowitz (who would join O.J. Simpson's Dream Team later that year) to argue their appeal to the MPAA over the speech-stifling rating and it was lifted in favor of an R by the time it opened in theaters on Oct. 19, 1994.
5. Brian O'Halloran, who plays the endlessly put-upon Quick Stop Groceries clerk Dante, was doing community theater at the First Avenue Playhouse in New Jersey and saw the audition notice in the newspaper.
"I didn't know what I was auditioning for," the actor told Saratoga Living in 2018. "I just knew that it was a comedy film with guys that were in my age range. I was 23 at the time. It was definitely an adventure. I didn't know that this was a principal role, because when I auditioned, I'd asked how many principals there were, and one of Kevin's friends said, 'There are six of them, but we've already got them cast.'"
6. Jeff Anderson, aka zero-f–ks-giving video store clerk Randal, originally auditioned to play Jay, while Smith was going to play Randal. Ultimately Smith didn't want that big of a part, so he cast Anderson.
7. Smith discovered Lisa Spoonauer, who played Caitlin, Dante's engaged ex who ends up catatonic at the end of the movie after having sex with a dead guy in the bathroom who she mistook for Dante, at an acting class in Brookdale Community College, where he had dropped in looking for the right actress for the role.
"Captivated, I approached Lisa cold in the parking lot after the class and said, 'This is gonna sound creepy but… Do you wanna be in a movie?'" Smith later recalled. "Fearlessly, she replied, 'Not if it's porn.'"
After meeting him on the set, Spoonauer married Jeff Anderson in 1998, but they divorced after only a year.
Sadly, Spoonauer died in 2017 at only 44 years old. No cause was given in an obituary shared by the funeral home where a memorial service was held.
"Lisa was easily the most natural and authentic voice in the room," Smith wrote in tribute to her. "She didn't sound like she was acting at all; she delivered scripted dialogue as if she was inventing her conversation in the moment, like people do in real life."
Spoonauer had mainly retired from acting to become a restaurant manager and event planner, and she had a daughter with her second husband, Tom Caron.
8. The "dead guy in the bathroom" plot point from Clerks was mentioned by Joey Lauren Adams in Chasing Amy, further placing the characters in the same universe.
9. They shot mostly at night, so Smith wrote the jammed locks on the metal security shutter into the script because they didn't have money to make it look like daytime-bright inside anyway.
As irreverent as most of the dialog sounds, "I'd say 98 percent of it was scripted," O'Halloran recalled to Saratoga Living. "Kevin is an extremely particular writer, as he should be. He worked painstakingly hard to get the script to how he wanted to hear it."
10. "Egg Man" is played by Walt Flanagan, who also appears in the movie as "Woolen Cap Smoker," "Offended Customer," and "Cat-Admiring Bitter Customer."
The "Lon Chaney of Clerks" Smith called him in the 1995 home video commentary.
The young woman who comes along to chide Egg Man, the "Caged Animal Masturbator," is Smith's sister, Virginia.
11. One actor pulling quintuple character duty was David Klein, who asks at the video store "Do you have the one with that guy who was in that movie?" as "Low I.Q. Video Customer," as well as plays "Angry Mourner," "Hunting Cap Smoking Boy," "Hubcap Searching Customer," and part of "Angry Crowd at Door."
12. The "Milk Maid" is Kevin Smith's mother, Grace.
13. Smith wasn't a smoker when he started making Clerks, which inspired the Chewlie's Gum sales rep who's trying to deter customers from buying cigarettes inside. But by the time he was shooting Mallrats the following year, and playing chimney Silent Bob, he was smoking two packs a day.
14. When Veronica (Marilyn Ghigliotti) unleashes the fire extinguisher on the unruly checkout line, she sprayed them with real fire retardant. For subsequent takes, the white residue is baby powder.
15. Painting Veronica's nails during the scene where she and Dante are talking about his future, or lack thereof, was an in-the-moment decision. Ghigliotti had the bottle of polish in her purse.
16. Smith didn't actually have permission to film outside this very real funeral home, so he did two quick takes and they left. (No actual knocking over of the coffin occurred.)
17. Ernie O'Donnell, who plays relatively jacked trainer Rick Derris, was going to play Dante, but apparently he and Smith couldn't quite cohere on the vision for the character.
18. Heather, sister of Joey Lauren Adams' Alyssa in Chasing Amy and girl entranced by Rick, is played by Kim Loughran, an ex-girlfriend of Smith's from high school and college.
19. They really played roller hockey on the rooftop of the store—as does the band Soul Asylum in the music video for "Can't Even Tell," which features Jay and Silent Bob and was directed by Smith.
"When I was first watching Clerks," frontman Dave Pirner told Song Facts, "the dialogue was so sharp and so smart, that at the time all I could really associate it with was noir, like old Hollywood where there were so many words. Nowadays it seems like you can't get away with that many words because Bruce Willis needs to do so many things in an action sequence."
The song is on the movie's soundtrack, and the band's "Misery" is in Clerks II.
20. Brian O'Halloran has appeared in all of Smith's movies with the Jay and Silent Bob throughline: Mallrats, Chasing Amy, Dogma, Jay and Silent Bob Strike Back and 2019's Jay and Silent Bob Reboot.
21. Jeff Anderson has confined his acting work almost entirely to Smith-directed films, including Zack and Miri Make a Porno, which featured neither Jay nor Silent Bob. His real job is owning and operating an import tile company, but he amiably remains a member of the View Askewniverse. In a video he posted in June announcing an appearance in honor of the film's 25th-anniversary year, Anderson quipped, "How does that work out? I'm only 32. Huh."
22. An alternate ending had Dante finally about to close the store and leave for the day when an armed robber comes in and shoots him. Luckily Smith concluded that ending on that bleak of a note would have been a tonal shift the movie didn't need to get its another-day, what's-the-point point across.
"I hated that ending," O'Halloran confirmed as much to Rolling Stone in 2014.
23. After earning $31,665 its first weekend in two theaters, Clerks ultimately expanded into 96 theaters, but no more than 50 at a time (to compare, Avengers: End Game opened in almost 2,000 theaters), and earned $3.2 million, making it one of the most successful indie films of all time.
That's $31 million more than Mallrats, Smith's second movie, made—though that too had a better shelf life on the home video market and still enjoys an illustrious legacy as a cult-classic.
24. Jason Mewes has worked regularly on TV and in movies since popping up as the foul-mouthed but kinda sweet stoner Jay in Clerks, but he's predominantly known for that role. He's had a circuitous journey outside Hollywood, falling heavily into a drug addiction that landed him in court-ordered rehab instead of jail in 2003. After a relapse in 2010, he got clean and launched the podcast Jay and Silent Bob Get Old with Smith.
Its popularity was "something I didn't expect," Mewes told The Fix in 2017. "I had no idea it would help other people. That's been a really amazing part of this whole process. I really dig it. Not to mention that Kevin and I have also gotten to be better friends."
25. Clerks II, featuring thirtysomething Dante and Randall and adding Rosario Dawson to the mix, came out in 2006 and made $27 million on a $5 million budget ('cause they made it in color and everything). A short-lived animated series followed in 2008, featuring the original stars' voices.
Talking about getting the gang back together for Clerks II, Smith acknowledged to the Austin Chronicle that it "was little harder than I expected it to be. I knew Jeff might be a bit difficult, because he's had a love/hate relationship with his character Randal over the years. He's the dude who didn't necessarily want to be an actor. And then he did Clerks, it got attention, and ever since people will ask him why he hasn't been in any other movies, you know?" Acknowledging his buddy's successful tile business, Smith added, "Clerks was just something fun he did years ago. I imagine that can get kind of irritating."
As for getting Dawson, Smith said, "We went to her first thinking we'd be done with it right away because she's going to say no, and the sooner we can get through this list, the sooner we can cast somebody in the movie. And then she said 'Yes!' She must've lost a f–king bet or something."
Article continues below
Smith then wrote Clerks III, intended to be a rather morbid look at his "heroes" in middle age with death seemingly looming, but the heart attack he suffered in 2018 changed his perspective.
"Now I know what death is," he told Entertainment Weekly recently, "and I don't want to make that movie anymore." So, he re-wrote the movie, and now "it makes a lot more sense and brings my entire life full circle."
The movie, listed as "announced" on IMDb, includes the principal four and Rosario Dawson, who has a cameo as a new character in Jay and Silent Bob Reboot, has indicated she'd be down.
"I'm so grateful that [Smith's] still with us and still creating, and now he's talking about doing a Clerks III," she told USA Today recently. "I just love working with him."